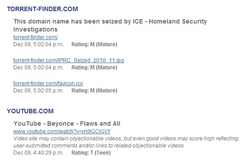 Owosso, MI (PRWEB) December 27, 2010
Movie ratings have existed since 1930, and game ratings since 1994. But no one has rated the Internet until now.
The Covenant Eyes rating system, released in December, makes it easy for parents to know the age-appropriateness of websites. With a new website being launched every 2 seconds, parents need a tool that helps them keep up with ever-changing threats on the Internet. Covenant Eyes Internet Accountability and Filtering provides reports that show a rating for each web page visited. Now, at a glance, moms and dads can quickly know the maturity level of websites visited and tailor conversations to match their kids' Internet use and habits.
First, parents are pressed for time, and we want to make it easy for them to know how the Internet is being used in their homes, said Ron DeHaas, President of Covenant Eyes. Second, we want to empower parents to have informed conversations with their kids.
Families can use ratings to guide their habits and online lifestyles in healthy ways, said Dan Lohrmann, Chief Technology Officer for the State of Michigan. Many parents don't have a good idea about what their kids are seeing, and websites that fall into certain highly mature categories can now be blocked or limited in their use.
Covenant Eyes ratings include E for everyone, Y for youth, T for teen, MT for mature teen, M for mature, and HM for highly mature.
"Just as movie ratings are highly important to every movie viewer, ratings of websites will certainly become a household concept for the Internet," DeHaas said.
Covenant Eyes has been providing Internet Accountability reports to its customers for 10 years, but in the past it provided a numerical score for each site. Continued investment and product development helped the scoring system evolve into the new rating system, which is simpler because people are already accustomed to ratings for TV, movies, and video games.
In the coming months, Covenant Eyes will release updates that take advantage of this rating system.
First, Covenant Eyes will allow people to choose the ratings they want to see on an individual's report. (Read "What does Covenant Eyes monitor?") For instance, a parent may want to view most website ratings for a child, but may only want to see more mature website ratings for a spouse or an adult friend.
Second, parents will soon select filter sensitivity settings based on the new ratings. This will allow parents to easily select a filter setting based on the age or maturity of each member of their family. Even at its least sensitive setting, the Covenant Eyes filter will block sites rated HM (highly mature).
Families face unique challenges because the Internet is so vast, DeHaas said. Our reports and rating technology allow parents to address the issues facing their household, specifically.
###