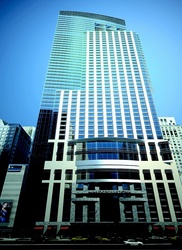 PHILADELPHIA & BEVERLY HILLS, Calif. (PRWEB) October 30, 2008
Tim Mahoney, President and CEO of Mariner, and Brook Lenfest partnered in 2000 to acquire the site located at the northeast corner of 15th and Chestnut Streets. In October of 2007, Mariner joined forces with Gatehouse Capital Corporation to co-develop this $ 420 million hotel-anchored mixed-use project. The development will unite the legendary luxury and tradition of the Waldorf=Astoria brand with the historic streets of Philadelphia.
"This development emphasizes our commitment to strengthen and cultivate our portfolio of one-of-a kind properties in a variety of destinations across the globe," said Ross Klein, Global Head of Luxury and Lifestyle Brands, HHC. "The introduction of The Waldorf=Astoria Hotel and Residences in Philadelphia underscores an aggressive growth strategy that will bring these authentic and unique guest experiences into markets where there is significant growth potential in the luxury and lifestyle sectors. The Waldorf=Astoria Hotel and Residences Philadelphia will bring to life the core values of our original Manhattan property — 'The Greatest of Them All' — through its distinct character and location."
Standing at 670 feet tall, the 58-story Waldorf=Astoria Hotel and Residences Philadelphia will be the city's sixth-tallest building as well as its tallest mixed-use hotel and residential project. The classically contemporary granite and glass tower is to be designed by Cope Linder Architects of Philadelphia. As a newly constructed property, the hotel will have a variety of opportunities to support a sustainable footprint. A small sample of the many sustainable practices designed to be utilized in the project include: vegetative roof systems; one of the first U.S. hotel installations of an active chilled beam HVAC system; and an unprecedented degree of building automation through a unique venture with Johnson Controls, Inc., the world's leader in building automation technologies and building system integration.
"Philadelphia is a beautiful, historically significant city and truly epitomizes everything that is classic about the Waldorf=Astoria brand," said Mahoney, President and CEO of Mariner Commercial Properties. "The fact that Hilton Hotels Corporation has selected Philadelphia as one of the first locations for its luxury Waldorf=Astoria Hotels brand only serves to underscore the point."
To ensure that the Waldorf=Astoria project meets the developers' high benchmark for sustainability while enhancing the luxury experience for residents and guests, the Mariner/Gatehouse development team retained Re:Vision Architects of Philadelphia, one of the leading LEED consultants in the country.
"We're convinced that being sustainable can enhance the guest experience and, surprisingly, we've found no shortage of extremely high-quality and innovative building products to use in this project from some of the most prominent and respected names in the industry," said Mahoney.
The Waldorf=Astoria Philadelphia will feature 136 residences in total with prices starting at $ 1 million. 128 semi-custom luxury residences will feature generous one-, two-, and three-bedroom floor plans and a selection of incomparable finishes. Eight custom Bi-Level Penthouses will showcase internal private elevators, grand staircases, large gracious floor plans and some of the highest walkout terraces in the city.
"The Philadelphia real estate market has seen a surge of new luxury housing in recent years, but The Waldorf=Astoria Philadelphia will be the first vertically integrated mixed-use building that offers residents and guests alike the same 5-star treatment and access to the hotel's finest amenities," said Mahoney.
Waldorf=Astoria Philadelphia residents will enjoy a private Lobby on Chestnut Street with private elevator banks, a residents-only Club Room and private on-site storage. They will also benefit from the hotel's amenities, such as 24-hour room service, a knowledgeable staff of professional concierges, housekeeping service, babysitting service, pet care, a 14,000-square-foot spa & Precor